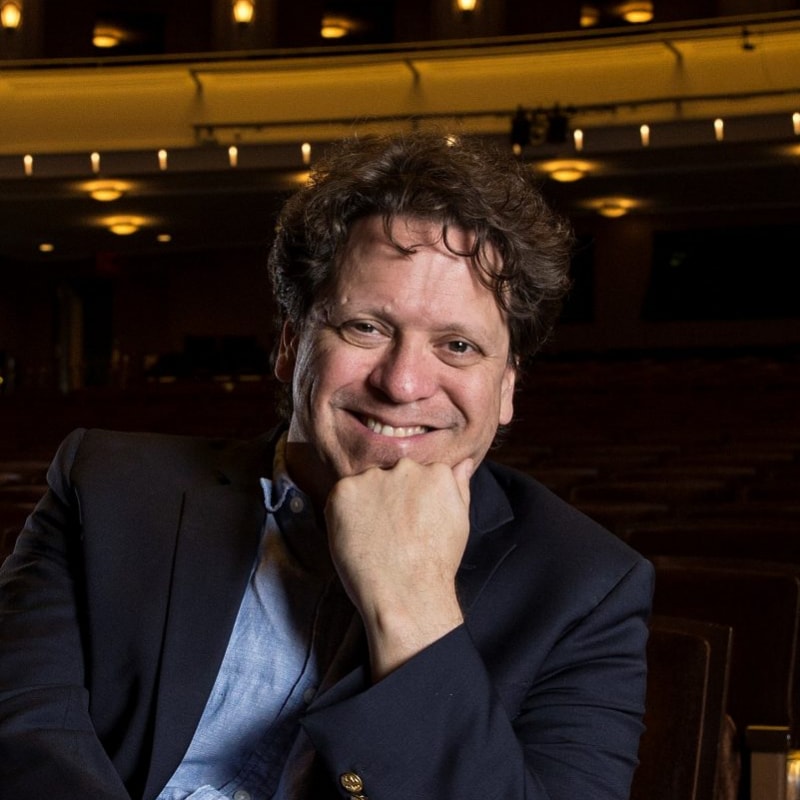 Donato Cabrera is the Music Director of the Las Vegas Philharmonic and the California Symphony, and served as the Resident Conductor of the San Francisco Symphony and the Wattis Foundation Music Director of the San Francisco Symphony Youth Orchestra from 2009-2016.
Cabrera has greatly changed the Las Vegas Philharmonic's concert experience by expanding the scope and breadth of its orchestral concerts, hosting engaging and lively pre-concert conversations with guest artists and composers, and by creating the Spotlight Concert Series that features the musicians of the Las Vegas Philharmonic in intimate chamber music performances.  Since Cabrera's appointment as Music Director in 2013 of the California Symphony, the organization has redefined what it means to be an orchestra in the 21st Century. Under Cabrera's baton, the California Symphony has reached new artistic heights by implementing innovative programming that emphasizes welcoming newcomers and loyalists alike, building on its reputation for championing music by living composers, and committing to programming music by women and people of color.
In the 2020-2021 season, Cabrera will continue to work with Las Vegas Philharmonic and California Symphony to give performances in a reimagined way that will keep musicians and audiences safe, keeping alive the vibrant, exciting, high quality music experiences during COVID-19 restrictions. All scheduled events for 2020 will be presented online, while plans for 2021 will be announced in advance of the scheduled performance dates.
In March 2020, Cabrera launched two new online projects to stay engaged with audiences during the Coronavirus pandemic. MusicWise – Conversations about Art and Culture with Donato Cabrera is a weekly series presented on Facebook Live and YouTube Live featuring interviews with engaging artists and civic leaders. The Music Plays On is a series on Cabrera's blog, featuring commentary and analysis on his favorite performances and recordings.
Deeply committed to diversity and education through the arts, Cabrera has evaluated the scope, breadth, and content of the Las Vegas Philharmonic and California Symphony's music education programs. In past years, annually reaching over 20,000 Title I fourth graders of the Clark County School District, Cabrera has completely reshaped Las Vegas Philharmonic's Youth Concert Series to be a curriculum-based concert experience, while also integrating a hands-on, complimentary experience with the DISCOVERY Children's Museum.  California Symphony's Sound Minds program has achieved national attention for its El Sistema-inspired approach and has a proven track record in impacting the lives and improving the test scores of hundreds of K-6 children in San Pablo's Downer Elementary School.
In recent seasons, Cabrera has made impressive debuts with the National Symphony's KC Jukebox at the Kennedy Center, Louisville Orchestra, Hartford Symphony, Orquesta Filarmónica de Jalisco, Philharmonic Orchestra of the Staatstheater Cottbus, Orquesta Filarmónica de Boca del Río, Orquesta Sinfónica Concepción, Nevada Ballet Theatre, New West Symphony, Kalamazoo Symphony, and the Reno Philharmonic. In 2016, he led the Chicago Symphony Orchestra in performances with Grammy Award-winning singer Lila Downs. Cabrera made his Carnegie Hall debut leading the world premiere of Mark Grey's Ătash Sorushan with soprano, Jessica Rivera.
As Resident Conductor of the San Francisco Symphony, Cabrera worked closely with its Music Director Michael Tilson Thomas and frequently conducted the orchestra in a variety of concerts, including all of the education and family concerts, reaching over 70,000 children throughout the Bay Area every year. During his seven seasons as Music Director of the San Francisco Symphony Youth Orchestra, Cabrera took the group on two European tours, winning an ASCAP Award for Adventurous Programming of American Music on Foreign Tours, and receiving critical acclaim for a live recording from the Berlin Philharmonie of Mahler's Symphony No. 1.
Cabrera is equally at home in the world of opera. He was the Resident Conductor of the San Francisco Opera from 2005-2008, and has also been an assistant conductor for productions at the Metropolitan Opera, Lyric Opera of Chicago, the Ravinia Festival, Festival di Spoleto, the Aspen Music Festival, and the Music Academy of the West. Since 2008, Cabrera has frequently conducted productions in Concepción, Chile.
Awards and fellowships include a Herbert von Karajan Conducting Fellowship at the Salzburg Festival and conducting the Nashville Symphony in the League of American Orchestra's prestigious Bruno Walter National Conductor Preview. Donato Cabrera was recognized by the Consulate-General of Mexico in San Francisco as a Luminary of the Friends of Mexico Honorary Committee, for his contributions to promoting and developing the presence of the Mexican community in the Bay Area.