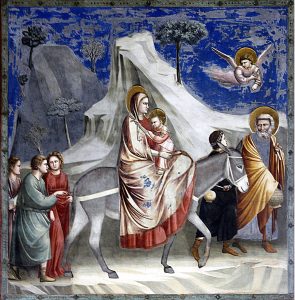 The Flight into Egypt – Giotto di Bondone
The French composer Hector Berlioz is mostly known in the U.S. for his truly groundbreaking Symphonie fantastique, but he was a prolific composer whose many works are admired and performed with regularity in other parts of the world, including his oratorio, L'Enfance du Christ (The Childhood of Christ).
Between 1850–1854, Berlioz wrote the music and words for what would become the Trilogie sacrée (sacred trilogy) — his words — of L'Enfance du Christ. In 1850, he composed a work for tenor, organ, chorus and orchestra called La fuite en Egypte (The Flight to Egypt). It was published in 1852 and premiered in Leipzig the following year to such great success that he was persuaded to expand the work into a larger piece. La fuite en Egypte would become the centerpiece of the trilogy with Part I Le songe d'Hérode (Herod's Dream) and Part III L'arrivée à Saïs (The Arrival at Sais).
Atypical for Berlioz at the time, L'Enfance du Christ was favorably received by most critics and has remained a very popular work of Berlioz's ever since, with many annual performances throughout France and elsewhere. Many critics considered this piece as a clear sign that Berlioz was now composing in a more simple style, however Berlioz strongly disagreed —
In that work many people imagined they could detect a radical change in my style and manner. This opinion is entirely without foundation. The subject naturally lent itself to a gentle and simple style of music, and for that reason alone was more in accordance with their taste and intelligence. Time would probably have developed these qualities, but I should have written L'enfance du Christ in the same manner twenty years ago.
What I so like about this piece is that it tells the story of what directly preceded and followed Christ's birth, shedding light on the difficulties of not only Mary and Joseph's plight, but on the general population of Bethlehem at the time. It humanizes a story that can seem shrouded in mystery and lost to the pages of history.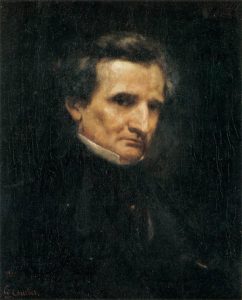 1850 portrait of Hector Berlioz — Gustave Courbet
While it takes a little digging, André Cluytens' first recording, in mono, is the one to hear. With Hélène Bouvier, Jean Giraudeau, Michel Roux, Louis Noguéra, the Choeurs Raymond Saint-Paul and the Orchestre de la Société des Concerts du Conservatoire, it is a collection of unparalleled French singing and orchestral playing that has since disappeared. The sound is glorious and it won the Grand Prix du Disque in 1952. It begins on track 66 of this playlist.
For a modern recording, I'd recommend the Charles Dutoit and Choeur et Orchestre Symphonique de Montreal, released in 2000.
In 2013, James Conlon stepped in to conduct a performance of L'Enfance du Christ, dedicated to the memory of Sir Colin Davis, who had recently passed away. It's a beautifully filmed and exciting performance.