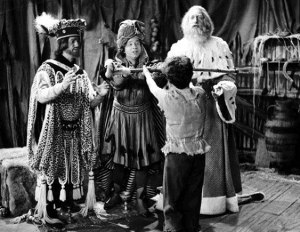 Original 1951 production of Amahl and the Night Visitors
It is hard to imagine a world in which there were only a few television stations to choose for your at-home entertainment. Harder still to imagine one of those stations commissioning a living American composer to write an opera to be premiered and performed live on national television on Christmas Eve. Yet, such was the case for the Italian-American composer, Gian Carlo Menotti, and his opera, Amahl and the Night Visitors.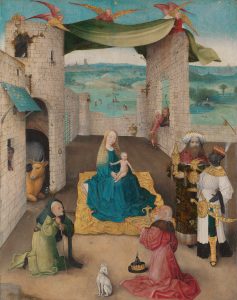 The Adoration of the Magi – Hieronymus Bosch
For the debut broadcast of NBC's Hallmark Hall of Fame Holiday Special, Menotti was asked by Peter Herman Adler, the director of NBC's newly formed NBC Opera Theater (yes, NBC had an opera theater company) to write an opera written specifically for television, and for an American audience. Menotti took his inspiration from Hieronymus Bosch's The Adoration of the Magi that still hangs in The Metropolitan Museum of Art.
As the date of the broadcast neared, Menotti had yet to finish the score and the singers learned the music peacemeal, as Menotti sent the final passages of the opera just days before the premiere. Menotti's partner, the composer Samuel Barber was brought in to orchestrate the music and the conductor was the young and esteemed Thomas Schippers.
On December 24, 1951, on NBC, a nationwide primetime viewing audience of approximately 5 million people watched the premiere of Amahl and the Night Visitors on 35 affiliate stations coast to coast. It was an enormous success and until 1962, there was a live broadcast on NBC every year and it was the first television special to become an annual holiday tradition, far predating A Charlie Brown Christmas (1965) and Rudolf the Red-Nosed Reindeer (1964).
In the booklet for the original cast recording, Menotti writes —
This is an opera for children because it tries to recapture my own childhood. You see, when I was a child I lived in Italy, and in Italy we have no Santa Claus. I suppose that Santa Claus is much too busy with American children to be able to handle Italian children as well. Our gifts were brought to us by the Three Kings, instead.

I actually never met the Three Kings — it didn't matter how hard my little brother and I tried to keep awake at night to catch a glimpse of the Three Royal Visitors, we would always fall asleep just before they arrived. But I do remember hearing them. I remember the weird cadence of their song in the dark distance; I remember the brittle sound of the camel's hooves crushing the frozen snow; and I remember the mysterious tinkling of their silver bridles.

My favorite king was King Melchior, because he was the oldest and had a long white beard. My brother's favorite was King Kaspar. He insisted that this king was a little crazy and quite deaf. I don't know why he was so positive about his being deaf. I suspect it was because dear King Kaspar never brought him all the gifts he requested. He was also rather puzzled by the fact that King Kaspar carried the myrrh, which appeared to him as a rather eccentric gift, for he never quite understood what the word meant.

To these Three Kings I mainly owe the happy Christmas seasons of my childhood and I should have remained very grateful to them. Instead, I came to America and soon forgot all about them, for here at Christmas time one sees so many Santa Clauses scattered all over town. Then there is the big Christmas tree in Rockefeller Plaza, the elaborate toy windows on Fifth Avenue, the one-hundred-voice choir in Grand Central Station, the innumerable Christmas carols on radio and television — and all these things made me forget the three dear old Kings of my old childhood.

But in 1951 I found myself in serious difficulty. I had been commissioned by the National Broadcasting Company to write an opera for television, with Christmas as deadline, and I simply didn't have one idea in my head. One November afternoon as I was walking rather gloomily through the rooms of the Metropolitan Museum, I chanced to stop in front of the Adoration of the Kings by Hieronymus Bosch, and as I was looking at it, suddenly I heard again, coming from the distant blue hills, the weird song of the Three Kings. I then realized they had come back to me and had brought me a gift.

I am often asked how I went about writing an opera for television, and what are the specific problems that I had to face in planning a work for such a medium. I must confess that in writing "Amahl and the Night Visitors," I hardly thought of television at all. As a matter of fact, all my operas are originally conceived for an ideal stage which has no equivalent in reality, and I believe that such is the case with most dramatic authors.
Here is a video of the original 1951 broadcast.
In 1978, NBC created a new production of Amahl and the Night Visitors, partially filmed in the Holy Land and superb cast, starring Teresa Stratas as Amahl's mother, Robert Sapolsky as Amahl, and Willard White, Giorgio Tozzi and Nico Castel as the Three Kings. It was directed by my friend, Arvin Brown. For me, this is the best available.
And here is the original cast recording.