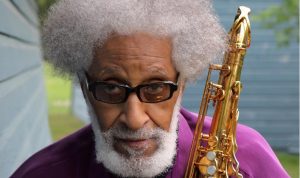 Born on this day ninety years ago, the great saxophone player, Sonny Rollins, is still with us today. In fact, he was on a podcast this morning, completely with it and happy to share his incredible story.
Raised in Harlem and Sugar Hill, Rollins was surrounded by all of the great jazz artists from an early age. One of his mentors, Thelonious Monk, would rehearse in the teenage Rollins' apartment. Upon graduating from high school, Rollins started to play professionally and in 1955, at age 25, he officially joined the Miles Davis Quintet. However, in 1954 Rollins recorded with Miles Davis the album, Bags Groove, which contain many of his greatest songs, including Airgin, Doxy, and Oleo.
Rollins didn't stay in the Miles Davis Quintet long and at the end of 1955 joined the Clifford Brown — Max Roach Quintet. Two incredible albums were recorded with this group before Clifford Brown's untimely death, Clifford Brown and Max Roach at Basin Street and Sonny Rollins Plus 4.
In June 1956 Rollins recorded Saxophone Colossus. It remains one of the most written about and analized jazz recordings to this day.
Rollins pioneered the combination of bass and drums to accompany his solos, without piano. This trio of sound was called strolling and is first heard on the 1957 albums Way Out West and A Night at the Village Vanguard.
Rollins is one of last two living jazz musicians — Benny Golson being the other — in the iconic 1958 photo, A Great Day in Harlem, by Art Kane.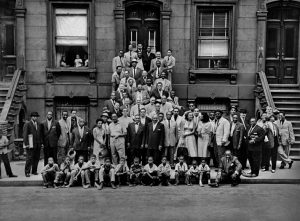 Also in 1958, Rollins recorded another iconic album for the strolling trio, Freedom Suite.
Here's a great example of Rollins' playing in this video of a performance from 1959.
Rollins is almost as well known for his sabbaticals from his professional life. He walked away from his career in 1959 dissatisfied with his musical abilities and from the summer of 1959 until the end of 1961 practiced on the walkway of the Williamsburg Bridge for sometimes 15–16 hours a day, regardless of the weather. He also became a dedicated to yoga. In 2016 there was a movement begun to rename the bridge in his honor and I hope it's successful!
His 1962 comeback album The Bridge became one of his biggest sellers and is in the Grammy Hall of Fame.
He also explored the American Songbook with two albums of standards, Now's the Time and The Standard Sonny Rollins.
One of my all-time favorite jazz albums is the 1963 album Sonny Meets Hawk! recorded for RCA and a great duet album with Rollins and Coleman Hawkins.
One of the great jazz film soundtracks of all time is Rollins' 1966 soundtrack to the film, Alfie.
Rollins took another sabbatical 1969–1971 and he returned yet transformed again. Listen to his 1972 album, Next Album.
Even on one of his last studio albums, Sonny, Please, his indelible sound is still there.
He stopped playing in 2012 because of ongoing respiratory issues, but this video of him playing live in Vienna in 2011 still shows him at his finest.