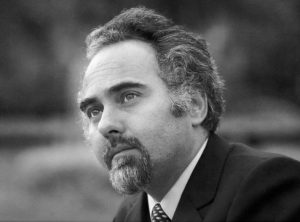 The first classical music superstar that I met in my hometown was the horn player and conductor, Barry Tuckwell. He came to guest conduct our local orchestra and I was lucky enough to be invited to a dinner that included the horn section and Mr. Tuckwell. At the dinner I asked him a couple of questions, including who were some of his favorite conductors he worked with as the principal horn of the London Symphony Orchestra. His answer was quick and short, "István Kertész. And I can't tell you why. He just was the best."
Kertész has been lost somewhat to history because of his early and untimely death. In 1973, while swimming off the coast of Israel, he drowned at the young age of 44. He had almost completed recording the symphonies of Brahms with the Vienna Philharmonic and as a tribute to him, the Vienna Philharmonic recorded the final piece, Variations on the Theme of Haydn, without a conductor. This set of Brahms symphonies has always been one of my favorite as Kertész elicits that perfect combination of warmth and passion that only the Vienna Philharmonic can create.
By the time of his death, Kertész had already conducted many of the world's greatest orchestras, and from 1965 to 1968 he was the Principal Conductor of the London Symphony Orchestra.
Kertesz's repertoire was vast and was, like most conductors of his generation, conversant in both operatic and symphonic repertoire. His 1966 recording of Bartók's Bluebeard's Castle is considered by many to still be the benchmark recording.
But, like so many, I came to know Kertész through his complete set of Dvořák Symphonies that he recorded with the LSO in 1965 for Decca. It was the first set to include the Symphony №1 and in listening to it again after many years, I'm still struck by his attention to rhythmic detail, while at the same time allowing the lyrical themes to really sing. It's still a great set, especially the recording of Symphony №7.
However, what really prompted me to write this article was a stumbling an actual video of Kertész conducting a performance of Beethoven's Symphony №7 with the Japan Philharmonic. I can now see why Mr. Tuckwell so enjoyed his conducting! He's clear, but not cold. Intense but not anxious. And always musical.