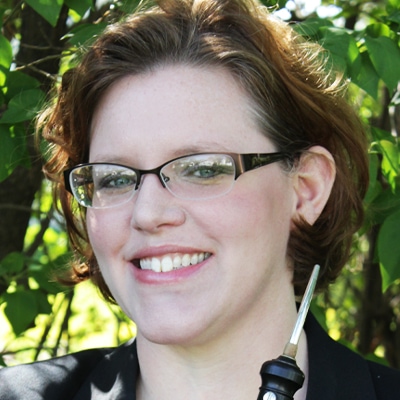 Mika Brunson, M.M. is a member of the Las Vegas Philharmonic (3rd oboe/English horn), a position she won in 2006.  She is also a member of the Central Wisconsin Symphony Orchestra (2nd oboe/English horn) and was the co-winner of the June 2013 audition for the 2nd oboe/English horn position with the La Crosse Symphony, with which she performs regularly.  During Summer 2015, Mika played oboe and English horn with the New Hampshire Music Festival in Plymouth, NH.  She also plays with the Wisconsin Philharmonic in Waukesha, WI.
Mika has taught Aural Skills, Music Appreciation and Group Piano at the University of Wisconsin Stevens Point at- Marshfield and is currently the choir teacher at Columbus Catholic MS/HS in Marshfield.
Mika is a frequent accompanist in Central Wisconsin, and keeps a large private studio of piano and voice students.  She plans to finish her licensure as an Andover Educator (teacher of Body Mapping) soon.