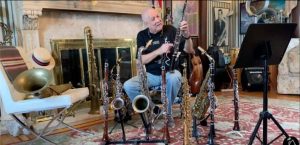 Together with the great pianist, Chucho Valdés, the composer and multi-instrumentalist Paquito D'Rivera helped to bring Afro-Cuban jazz to a world-wide audience. In 1967, they helped found the groundbreaking Orquesta Cubana de Música Moderna, and in 1973, Irakere, which would achieve international fame.
Orquesta Cubana de Música Moderna achieved such a beautiful blend of styles! The combination of the Hammond B3, electric guitar, afro-cuban percussion and the traditional instruments of the big band achieves an intriguing and exciting synthesis of what was popular music in the 50's and 60's, including classical music! Listen to this fantastic collection of their work, including the song, Ay Mamá Inés, which cleverly incorporates the opening of Tchaikovsky's Piano Concerto №1.
Irakere went even further in incorporating styles both new and old, from funk Afro-Cuban folkloric music, to Mozart. This incredible concert from 1979 is a great example.
Paquito D'Rivera was born in Havana, Cuba in 1948 and defected to the United States in 1980. His mother and sister had defected to the US in 1968, achieving considerable success in their respective pursuits, and were able to help Paquito to quickly establish a foothold in the musical community, although his incredible talents had preceded his arrival.
His first album recorded in the U.S. was an instant classic.
Paquito Blowin' (1981)
But, like the two bands he helped found, his music defies category. Without doubt, this pan-musical exploration inherent in D'Rivera's music is a result of two things — family and education. His father was a classical saxophonist and was Paquito's first teacher and the Havana Conservatory of Music produced an incredible level of graduate time and time again. As this concert with the WDR Funkhausorchester clearly shows, his ability to write for the orchestra is as persuasive as his solo saxophone/flute/clarinet playing.
In 2005, Rivera received the Kennedy Center's National Medal of Arts Award and became a NEA Jazz Master. He has won several Grammy Awards over the years, including a 1996 Best Latin Jazz Performance for his album, Portraits of Cuba.
And in 2000 a Best Latin Jazz Album for Tropicana Nights.
A 2003 Best Classical Album for narrating Stravinsky's Soldier's Tale. And in 2011, Best Classical Contemporary Composition and Best Latin Jazz Album Grammys for his album Panamericana Suite. Even the Grammys don't know how to classify his incredible compositions!
All along, Rivera continues to give back by being a generous musician and teacher, as evidenced in the great masterclass.
And these series of masterclasses and lessons he's offering on his YouTube channel.
and even publishing a book of exercises called, 12 Technical Studies on Phrasing, Articulation and Style.
A true artist, Paquito D'Rivera remains an inspiration and trailblazer.