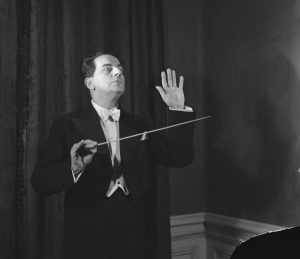 In one of my previous posts on Bruckner, I shared one of favorite recordings ever made of Bruckner's Symphony №7, Eduard van Beinum's classic 1947 recording with the Concertgebouw Orkest on Decca.
1947 was an important year for van Beinum. He had just been appointed the principal conductor of the London Philharmonic Orchestra and this recording helped to established his reputation with the public, something he had already secured with every orchestra and musician he conducted.
Van Beinum was born in 1900 in Arnhem, Netherlands and joined the local orchestra as a violinist in 1918, where his father also played double-bass. He studied at the Amsterdam Conservatoire and began conducting amateur orchestras and choirs. He became the conductor of the Haarlem Orchestral Society in 1927, and in 1931, became the Second Conductor of the Concertgebouw Orchestra under Willem Mengelberg. After the second world war, van Beinum became their principal conductor. By 1956, when van Beinum took the Concertgebouw Orchestra on a U.S. tour, he had been with them for 25 years and enjoyed a very close relationship with them. During this year, he also became the music director of the Los Angeles Philharmonic, a position he held until his untimely death three years later from fatal cardiac arrest while rehearsing Brahms Symphony №1 in Amsterdam.
I recently discovered this incredible video of van Beinum conducting Beethoven's Symphony №3. Now I can see why he was so revered and respected by his musicians. He's simply an excellent conductor.
In all honesty, and I can't say this about most other conductors, I can't find a recording that I don't like of van Beinum's.