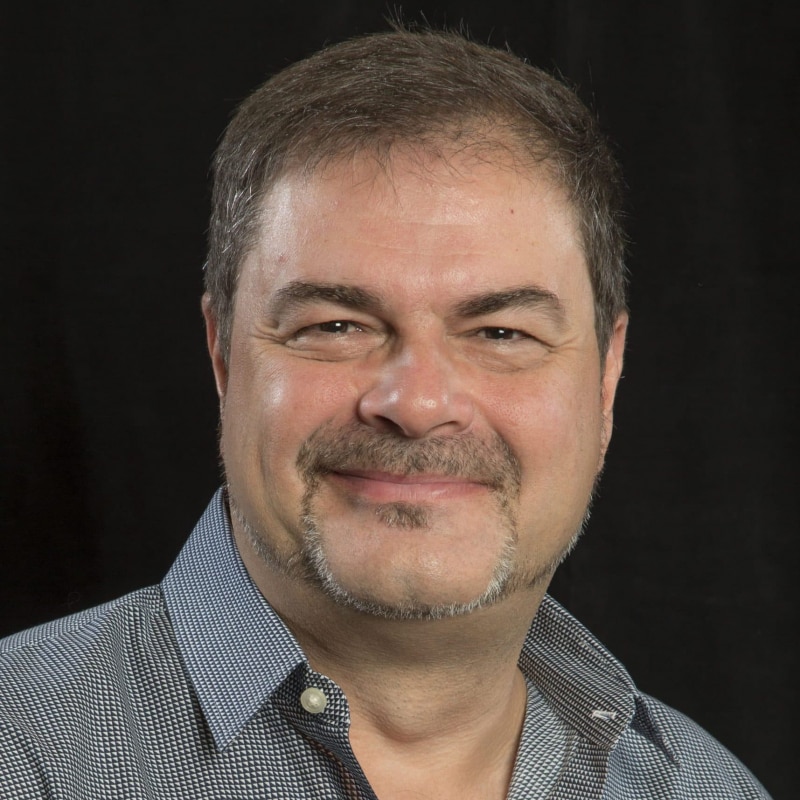 Patrick Bowen has been the Percussion Instructor at the Las Vegas Academy since 1992, where the Percussion Ensemble or soloists have won the Nevada All State Command Performance numerous times. Mr. Bowen is in his eighth year at the Academy where he teaches full-time the World Jazz Studies area and Chamber Ensembles. He was the percussionist for the hit Broadway show "Mamma Mia" at the Mandalay Bay Resort and is presently the Principal Percussionist with the Las Vegas Philharmonic. He has a Bachelor's degree in Music Performance from the Hartt School of Music (Cum Laude), a Master's degree in Music Performance from the University of Montana, and a Teaching Certificate from UNLV.
Jazz Bands at the Las Vegas Academy have won "Best in State" at every Reno Jazz Festival in attendance, Downbeats "Outstanding Big Band" and "Best Combo" awards, Lionel Hampton Jazz Festivals "Overall Winner" and first places in the big band and combo divisions, Monterey Jazz Festival finalist, Monterey's 51st Jazz Festival participant, "Superior' ratings at CCSD Jazz Festivals, and the fine arts area were six time winners of the Signature Gold Grammy Award, and two Signiture Grammy Awards. Mr. Bowen housed the IAJE Teachers Training Institute and was invited to the IAJE Conference in Long Beach,California.
Mr. Bowen has been a guest soloist with the Hartt Symphony, Henderson Civic Orchestra, and UNLV Percussion Ensemble. Mr. Bowen has performed with the Nevada Symphony Orchestra, Nevada Dance Theater Orchestra, Mahler Orchestra, New Haven Symphony, New Britain Symphony, Las Vegas Pops, Nevada Wind Ensemble, Nevada Opera Theater, and the Missoula Symphony Orchestra. He has extensive ensemble experience premiering works at the Columbia New Music Festival, Yale University New Music Festival, and the Saratoga Springs Festival.
He has been the Dance Accompanist at UNLV accompanying such choreographers as Gus Solomans, Jr., Loretta Livingston, Marcus Alford, Walter Nicks, Judith Moss, Sam Watson, Billy Siegenfield, and the Alvin Ailey Dance Company. He has also played with Celine Dion, Elton John, Clint Black, Sheila E, Wynonna Judd, Lionel Richie, Dudley Moore, Boyz II Men, Michael Bolton, Kenny G, Olete Adams, Fleetwood Mac, Stevie Wonder, Don Henley, Tim McGraw, Brian McKnight, Andre Bocelli and David Foster.
Mr. Bowen has served as the President of the Percussive Arts Society for the State of Nevada. He has also published Snares and Sets: A Book of Duets, and Temple: A Timpani Concerto for Timpani and Percussion Ensemble. He has written articles for the Percussive Arts Society and many of his original works have been recorded.
Patrick Bowen is a proud sponsor of Bosphorus Cymbals, Grover Pro Percussion, and Silverfoxx mallets and sticks.