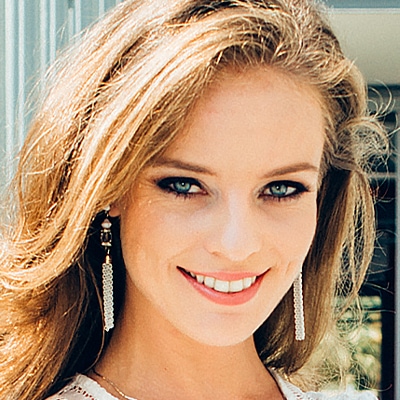 Ukrainian-born violinist Myroslava Khomik is a top prize winner of international competitions and awards, including the ​Remember Enescu Competition ​in Romania, and the ​New Names of Ukraine​ ​. She has appeared as a soloist and as a chamber music collaborator in concerts and festivals throughout the US, Europe, South America and Asia, and her performances were broadcast on National TV and Radio in Ukraine, Spain, the US, Japan, Mexico, Brazil and Argentina. In May of 2019 she was named a New Artist 2018 by the Classical Music Critics Association of Argentina after her successful debut in Buenos Aires with the ​Orquesta de Cámara del Congreso de la Nación.
Based in Los Angeles, Ms. Khomik is an avid promoter of contemporary composers, educational outreach, and regularly participates in premieres of new works. Most recent highlights include two new commissions for solo violin and an upcoming release of her debut album; performances with ​Orquestra Sinfonica EAFIT​ in Medellin, Colombia, O​ rquesta Filarmónica de Zacatecas, Sinfonica Orquestra de Barra Mansa, Orquestra de la Societat de Concerts de Barcelona, Kyiv Kamerata, ​as well as residencies in Brazil and Argentina​ ​with music programs for underprivileged children.
A devoted chamber music advocate, Ms. Khomik had the privilege of collaborating and performing alongside many distinguished artists, such as members of the ​Borromeo​, ​Jerusalem​, ​Ysaye ​and ​Tokyo​ String Quartets, Midori Goto, Oleh Krysa, Carol Wincec, Fred Sherry, Ronald Leonard, Robert Davidovici, Michelle Zukovsky, Antonio Lysy, Guillaume Sutre, Movses Pogossian, among others. She frequently appears in chamber music series in Los Angeles (LACMA Sundays Live, Broad Stage Series, Redcat Series, among others), in New York and throughout Europe.
Ms. Khomik received her Performance Diploma from Lviv Krushelnytska School of Music in Ukraine, and after continuing her education in the US she received her Doctor of Musical Arts degree at the University of California, Los Angeles, where she also held a position of the Teaching Associate of Chamber Music in the string department. Ms. Khomik regularly performs with several orchestras in Los Angeles, including the Los Angeles Opera Orchestra and the New West Symphony, she can be heard on various recordings for film and television, and is a member of the Las Vegas Philharmonic. Ms. Khomik served as an adjunct professor at Fullerton College, as is currently on faculty as a violin and chamber music teaching artist at Biola University and at the Montecito International Music Festival.