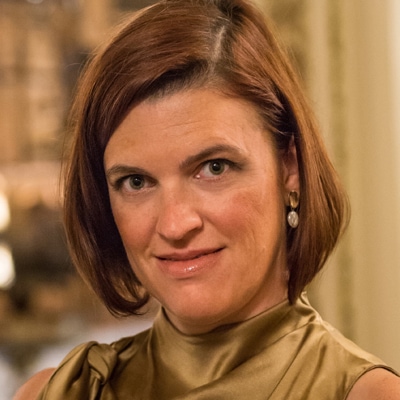 Known for being a results-driven arts executive with a focus on authentic audience engagement and community focused programming, Las Vegas Philharmonic Executive Director Lacey Huszcza has 15 years of success in business development, organizational growth, strategic planning, and digital innovation.
Bringing with her an unusually rich and varied range of experience in arts management, Lacey moved to Las Vegas in December of 2018 to lead the Philharmonic's administrative team. Named one of Musical America's Top 30 Professionals of 2018, Lacey is celebrated for her commitment to expanding the diversity efforts of American Orchestras as well as her ability to tailor an organization to respond to the ever-increasing need to build patron relationships and a more visible community presence. As Executive Director, Lacey oversees the Philharmonic's administrative operations; provides vision, leadership and direction for all fundraising, marketing, and human capital needs; and works with the Board of Trustees to chart the orchestra's growth both artistically and financially.
Lacey spent 13 years at Los Angeles Chamber Orchestra (LACO), where she spearheaded and managed several extraordinary projects including The Los Angeles Orchestra Fellowship, a collaborative program focused on increasing cultural diversity among orchestra musicians. Lift Every Voice, the Orchestra's 2017 three-week exploration of the power of music to encourage compassion and promote peace, amidst a politically volatile period in American history and Play Me I'm Yours, the high-profile community project in which LACO placed 30 decorated pianos in around LA for everyone to play are further testaments to Lacey's vision and creativity in bringing audience engagement together with authentic community programming.
In December 2010, Lacey co-founded Ask the Musicians, a digital media initiative integrating multiple online platforms to create international conversations about classical music, including website creation, tool management, recruitment, and cross-platform promotion providing users with a 140-character backstage pass into the world of classical music. The initial project engaged more than 60 conductors from around the world with hundreds of participants. Additional events have included Ask a Composer, Ask the Strings and Ask a Vocalist.
Lacey was appointed to the Board of Directors of the Association of California Symphony Orchestras in March 2015 and from 2012-2016 she served as President of the Board of Directors for MBA Women Los Angeles. She is a sought-after seminar presenter and guest lecturer at organizations including University of Southern California, Loyola Marymount University, ACSO, Arts Reach and Emerging Arts Leaders Los Angeles. Lacey is also a member of Beta Gamma Sigma, the international honor society for graduates of business programs accredited by the Association to Advance Collegiate Schools of Business (AACSB).
A longtime music enthusiast, Lacey holds two Bachelor of Arts degrees in Music and Communications from the University of Colorado, Boulder, where she studied horn with Michael Thornton. She earned an MBA with an emphasis in Entrepreneurship from Pepperdine University. She currently lives in Las Vegas with her husband Daniel Stott, a freelance trumpet player.