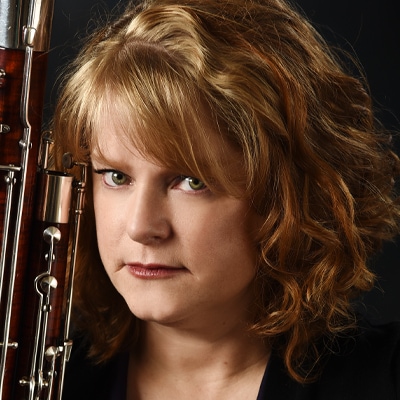 JANIS McKAY is an academic leader, author, and musician residing in Las Vegas, Nevada. She is Vice Dean of the College of Fine Arts and Professor of Music in the School of Music at the University of Nevada, Las Vegas (UNLV). Musical appointments include Principal Bassoonist of the Las Vegas Philharmonic, Contrabassoonist of the Reno Philharmonic, and Principal Bassoonist of the Classical Music Festival in Eisenstadt, Austria.
In 2020, McKay was appointed Vice Dean for the UNLV College of Fine Arts where she, in partnership with the Dean, faculty, and staff, ensures the mission and strategic initiatives of the college are carried out within the broad scope of the university's communities. Prior to her appointment as Vice Dean and while serving as a longtime member of the UNLV faculty, McKay held the positions of Chair of the UNLV Faculty Senate ('19-'20) and Vice Chair in the previous term ('18-'19). In this role, she helped to oversee the promotion and implementation of shared governance and a presidential search at the R1 institution – a title given by the Carnegie Classification of Institutions of Higher Education. As Professor of Music, McKay maintains a vibrant bassoon studio of young arts professionals and has taught numerous undergraduate and graduate courses in musicology and research. Academic areas of focus include local & state music history, Igor Stravinsky, Russian music, symphonic music, and music of the Classical & Contemporary periods. She previously taught at Baylor University, Capital University, Ohio Wesleyan University, and Wright State University.
As a musician, McKay has held positions and performed with numerous ensembles including Pro Musica Chamber Orchestra, Chautauqua Symphony Orchestra, Columbus Symphony Orchestra, Reno Chamber Orchestra, Canton Symphony Orchestra, Moscow Radio Symphony Orchestra, Charleston Orchestra, Springfield Symphony Orchestra, Wheeling Symphony Orchestra, and Louisville Orchestra among many others. As a freelance musician, McKay has performed and toured with artists such as Placido Domingo, Luciano Pavarotti, Andrea Bocelli, Charlotte Church, John Williams, Seth MacFarlane, Kelly Clarkson, Celine Dion, Gloria Estefan, Don Henley, Stevie Nicks, Metallica, Stevie Wonder, and Tony Bennett. McKay has been a featured soloist twice with the International Music Festival in Ukraine, twice with the Classical Music Festival touring Austria and Hungary, and once with the Las Vegas Philharmonic. She can be heard on Summit, d'Note, Starkland Records, and First Edition recordings. Her solo album "Dark Wind" was released by Troppo Note Publishing in 2017.
McKay has published articles in the New Grove Dictionary of American Music and in Cuepoint (Medium). She is the author of a book about Las Vegas casino musicians, Played Out on the Strip: The Rise and Fall of Las Vegas Casino Bands, published by University of Nevada Press in 2016. She received a Doctor of Musical Arts degree from The Ohio State University, a Master of Music degree from the University of Louisville, and a Bachelor of Music degree from the University of Georgia. Her major teachers were Christopher Weait, Matthew Karr, and William Davis.