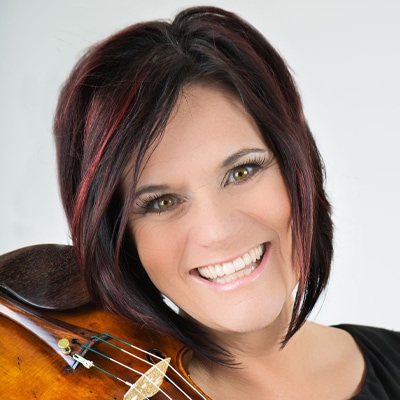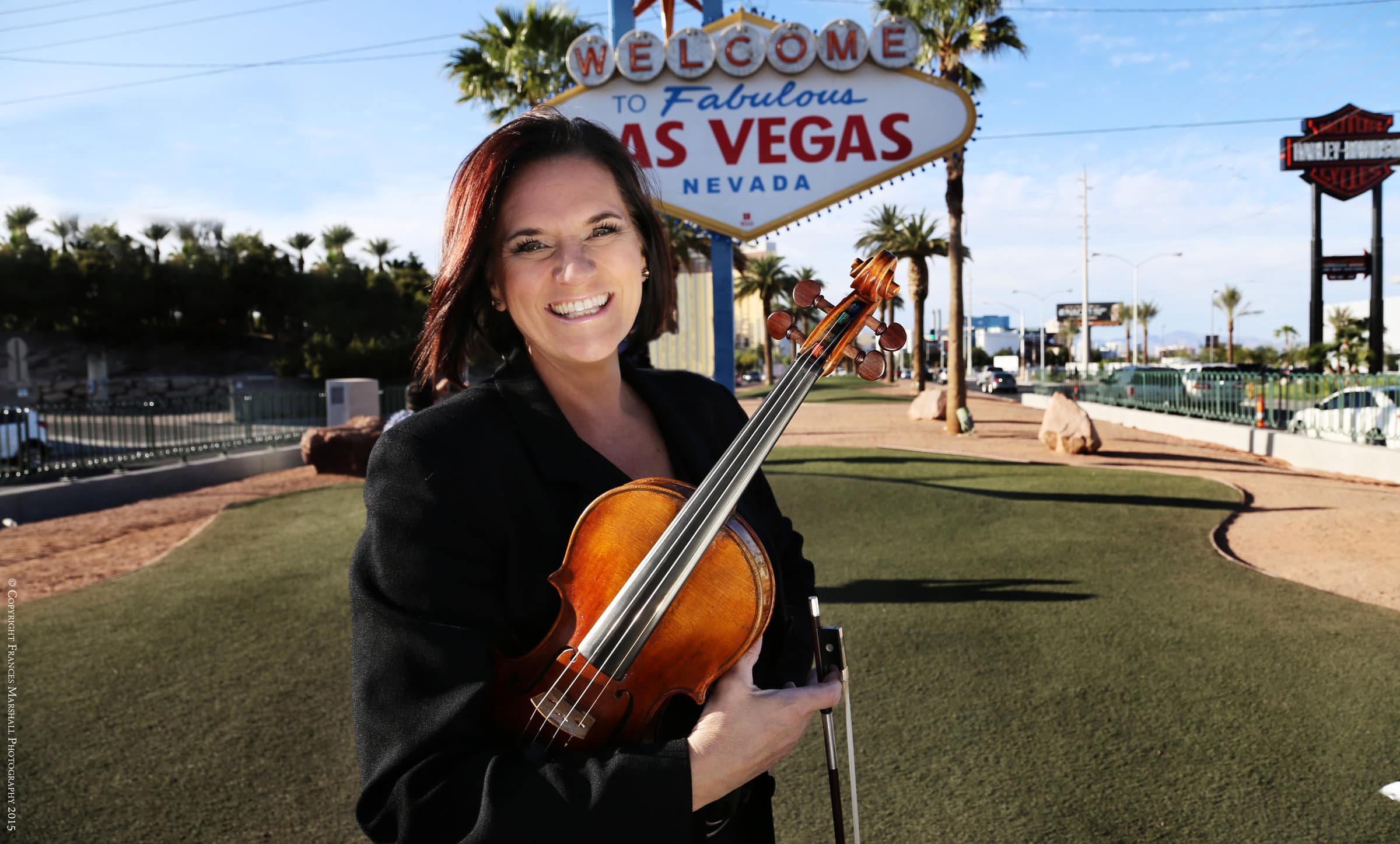 De Ann Letourneau is the Concertmaster of the Las Vegas Philharmonic, one of the few female Concertmasters in the US. In Las Vegas she is also Concertmaster for several other groups including the Nevada Ballet Theater and Opera Las Vegas.
Her unique style and approach to music has appealed to many in the field. She has been active in her guest artist capacity as guest Concertmaster, soloist, master classes at various Universities and performance coaching across the US and Abroad.
This past summer she had fun working with the wonderful friends and colleagues at the New Hampshire Music Festival.
As a performer, she has a unique ability to relate her love of music to all audience members. The Las Vegas Review Journal said, "…She performed not only impeccably but with an exuberant sense of joy." The Duluth News Tribune said "…her performance was sensationally vibrant from beginning to end."
Native of Superior Wisconsin, she began studying at age 14, and very quickly became noted as one of the up and coming Young Artists through several National Young Artists Competitions. She has appeared as guest artist with many orchestras including the Milwaukee Symphony, Las Vegas Philharmonic, National Arts Chamber Orchestra (Chicago), Duluth-Superior Symphony, Green Bay Symphony, Contemporary Arts Ensemble of Ohio, St. Martin Chamber Orchestra, Orchestra, the Lake Superior Chamber Symphony and the Henderson Symphony. She has also been heard on several TV and Radio interviews and concerts including: KNPR FM, National Public Radio (Las Vegas and Minneapolis), WQXR FM New York, Wisconsin Public Radio, Fox 5, channel 14 "Morning Blend" and PBS stations.
Her career officially began at age 16 with the win of a full-time position with the Duluth-Superior Symphony Orchestra. To date, she is still the youngest full-time member ever to win a position in the organization. She also made her solo debut with the DSSO that same year and from there went on to win many major Competitions and perform recitals throughout the US and Europe, including the first prize at the Starling International Young Artist Competition held in Aspen CO, where Miss Dorothy DeLay heard her and invited her as part of her studio.
Her love of performing went beyond her solo/recital stage experience. She fell in love with the fullness of sound surrounding her within the orchestra. Over many years she has performed in many various ensembles from chamber to major Symphony Orchestras. Through those experiences, she began to hone her leadership ability as Concertmaster. She has been Concertmaster for several orchestras as well as been invited as guest CM.
She has been asked to Guest CM with Duluth-Superior Symphony several times, where she will be Nov 4 as guest CM for a premier of a new work by a local Duluth composer. She has been CM National Arts Chamber Orchestra, CM Nevada Chamber Symphony, Assoc CM for Céline Dion, Assoc CM for Andrea Bocelli Tour, CM Contemporary Arts Ensemble, Co-Concertmaster of the American/Canadian Youth Orchestra under Charles Dutoit, Co-Concertmaster LA Institute at Hollywood Bowl under Sir Simon Rattle
In Las Vegas, she has been instrumental in much of the progression of the Fine Arts culture. Her enthusiasm and dedication to cultivating the Arts and Youth in Las Vegas earned her the honor as the first ever recipient of the "Woman of Distinction Award in the Performing Arts", the Congressional Certificate of Achievement, a Proclamation from the City of Las Vegas, A Certificate of Achievement from the Senate recognizing all for her work with the Arts and Youth in Las Vegas. In March 2012, she was inducted into the Superior Academic Hall of Fame with a "Lifetime Achievement Award" because of her dedication to working with young people and community arts growth. Next to performing, coaching young artists and inspiring young people through music is a true passion. She regularly visits Various schools across the country to present her personal version of a "Ted Talk" about goals, dreams and possibility (GDP), perseverance through the odds to succeed.
DeAnn trains young players and adults (both professional or recreational ) in her private studio. Her studio consists of young students, college students, professionals and many adult connoisseurs of violin from around multiple States and Abroad. They each set up a weekly or monthly schedule to help prepare their auditions for Competition, College Admissions and Professional Symphonic Jobs.
Her younger school age students, many have gone on to become musicians and have been accepted on scholarship to schools or summer festivals such Juilliard, USC, Colburn, University of Cincinnati- College Conservatory of Music, Meadowmount, Interlochen and Encore. Many of her students have chosen to pursue other careers, but have told her that they have utilized their training with "Miss DeAnn" to help them find success in their non-musical pursuits including Law, Medicine and Entrepreneurship.
The Las Vegas music scene is so diverse, it has also opened up opportunities to explore her other music making abilities. She is sought after in Las Vegas to perform with some of the biggest popular Artists of today. Currently, she is the Concertmaster for Adele at her show "Weekends with the Adele" at Caesar's Colosseum where she spent over 8 years with Céline and her show. She finished a project during Covid with the Imagine Dragons, recording some string work for their new album and a video for their March 2021 release "Follow You".
This year she will be performing for the opening of the new Foutainbleu property performing with Paul Anke, who was the first Artist she worked with when she moved to Vegas in 1995.
This year she will be performing several of the candlight concert series held at the Indistrial where she is performing quartet concerts with some of her colleges from the LVP Jason Bonham and Andy Smith. This year she will also be in concert with Johnny Mathis at his Smith Center Show, Mannheim Steamroller in Dec and Seth McFarland before she is back on stage with Adele in January.
A Highlight this season is her Performance of the Shostakovich violin concerto #1 with the Henderson Symphony on Feb 22 at Ham Hall. It is a highlight because this will be her debut on this amazing concerto with all of her friends at the HSO!
De Ann was a member of the "Showstoppers" orchestra at the Wynn for 2 years. She has performed with various artists for the Grammys and MusiCares show over several years. She has also been seen on TV performing with Céline Dion, Carrie Underwood, Kelly Clarkson, Lady Gaga, Tony Bennett, Thomas Rhett, for the AMAs, Billboard Award shows, Country Music Awards, Latin Grammy's and many other production shows. She helped to form a unique music group "Vertex3" where newly composed music is mixed with electronic/DJ sound with composer/DJ Aaron Ramsey and LVP violinist Rebecca Sabine. It was fun to help this group explore the mix of new music with technology.
A few years ago, she recorded her first non-classical solo-violin pop writing work with her good friend and Las Vegas Headliner, Frankie Moreno on his album "Uku-Latte" available on iTunes.
De Ann has always been fortunate in training and working with some the worlds best coaches and pedagogues over many years. She has brought those experiences into her private studio and as a teacher and coach, where she shares that knowledge and passion with new young performers.
Because of her unusually later age beginning on her instrument, she brings a very unique perspective and style of teaching to her students or in her Master Class. Her approach is unique because of the very fast paced learning she had to do to compete by age 15 with those who had trained at a much younger age. She uses this innate ability to describe that very fast, simple process of mastering the instrument to each individual student and she is able to create a program of success for each individual student using their individual sense of learning style.
She attended the University of Wisconsin-Superior with Diane Balko-former Concertmaster of the Duluth-Superior Symphony, UW-Milwaukee with Efim Boico & the Fine Arts Quartet in their Chamber Program, and finally finishing at the University of Cincinnati-College Conservatory of Music to study with Dorothy DeLay (Juilliard, CCM) & Kurt Sassmanshaus (CCM, Aspen). She has also had the opportunity to study with some other great violin pedagogues such as Josef Gingold (Indiana University), Jascha Brodsky (Curtis) & David Cerone (Cleveland Institute).
Besides performing and teaching, De Ann is very active in the arts community of Las Vegas. She has joined the boards of two local important arts groups. She is on the executive board of the Local 369 Musicians Union who helps maintain contracts for all major performance venues and Stars. She has also joined the executive board for Nevada School of the Arts in its growing stages to become even a larger educational center for students of arts for the entire Las Vegas area.
De Ann lives in Summerlin with her husband Scott, The Business Formation Expert. They have 3 unique and diverse children. Lee 22, (UNLV BFA Art major, Art History minor '23) Rose 19 UNR Bio major, Honors College '26) & Faith 17 (LVA Dance '25) and competitive dancer at Studio702