Friday, May 28, 2021 at 8:30PM
Join us on Friday, May 28 at 8:30 PM PT for The Future Sounds Bright, a special fundraising broadcast event!  The 30-minute televised program will feature our symphony orchestra's extraordinary history and educational events in Southern Nevada including exclusive performances by members of the Las Vegas Philharmonic.
The program will air on COX Channel 14 and right here, on our website!
If you miss Friday night's broadcast, there are two additional air dates that weekend:
Friday, May 28  at 8:30 PM
Saturday, May 29 at 9:00 AM
Sunday, May 30 at 9:30 PM
Presented in partnership with COX's Yurview Network.

Please Donate $150 or more for a Watch Party Gift Box
In celebration of this upcoming broadcast event, please support your Las Vegas Philharmonic by donating $150 or more to receive a Watch Party Gift Box for you and your friends to enjoy while watching the event!  The gift boxes include wine and a selection of cheese, savory, crunchy and sweet items.  To place your order online, click the orange button or please call Patron Services at 702.462.2008. Gift boxes will be available for pick-up at the Las Vegas Philharmonic office during normal business hours at 2451 S. Buffalo Drive, Suite 135, Las Vegas 89117.  Please call Patron Services to arrange a pick-up time after purchase.
Order Gift Box
Overture Gift Box* – $150 Donation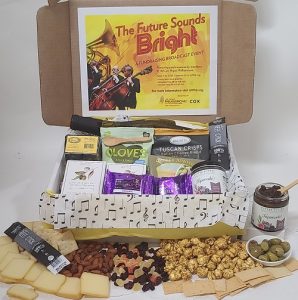 Serves 1 – 2 people
Menu
(1) Bottle of White California blend; specially crafted to pair with music
Award-Winning Hickory Maple Smoked Cheddar
Mediterranean Olives
Olive and Fig Tapenade, with mini bamboo spoon
Country Archer Beef Stick: 100% Grass Fed Beef
Olive Oil and Sea Salt Appetizer Crackers
Smoked Almonds
Gourmet Cheddar and Caramel Corn Popcorn
Tuscan Crisps from Italy (cheese flavor)
(2) Delicious Fairytale Brownies
Assorted dry fruits (pineapple, papaya, cranberries, blueberries, raisins)
*Items of equal or greater value may be substituted based on availability.
Our Spring Online Auction is Underway!
Monday, May 10 – Sunday, May 23, 2021
Shop for birthdays, anniversaries, Father's Day or treat yourself while supporting your symphony orchestra's mission to provide music, culture and education in the Las Vegas community and our return to stage later this year for our 2021-22 concert season!
Visit our Auction