Tune in to KNPR 88.9 FM when the Las Vegas Philharmonic and Nevada Public Radio present "Theater on the Air: Live from Area 51" on Wednesday, November 25 at 6 p.m. PST via live radio broadcast featuring a talented cast of actors from Vegas' live entertainment scene and LV Phil musicians.
The live production is a contemporary throwback to the beloved classic radio dramas of the 1930s and 40s, but with signature Vegas flare!  Families everywhere are invited to gather once again around the radio or streaming device of their choice and be captivated by an original, exciting drama that will appeal to all ages.  Gain access to one of Nevada's most intriguing mysteries through this one-night-only production that is sure to feel fresh yet nostalgic all at once.
Theater on the Air: Live from Area 51 is written by Joe Schoenmann, directed by Kate St-Pierre with Rebecca Zoltowski as Stage Manager, original score composed and arranged by Jennifer Bellor, and sound design by Martin St-Pierre.  The score will be performed by Las Vegas Philharmonic musicians De Ann Letourneau (violin), Andrew Smith (cello), Paul Firak (bass), Patrick Bowen (percussion) and guest Alexandria Le (piano).
Appearing in the cast are Marcus Weiss (Blue Man Group, La Rêve), Destiny Faith (Think Fast, Hairspray), RJ Owens (Mystère by Cirque du Soleil), Sabrina Cofield ('He Can Get It', 'Harlem Renaissance'), KNPR's Joe Schoenmann plays himself, as well as another role in the production.
Tune in to KNPR at 88.9 FM or online at knpr.org.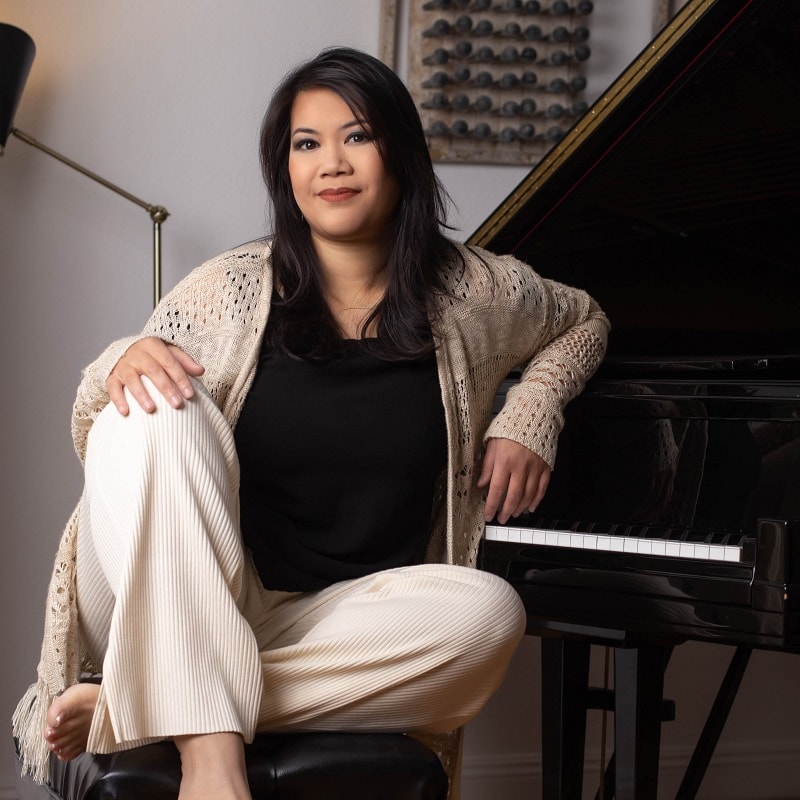 Piano
International award-winning pianist Alexandria Le is praised as "…a warm, animated, outgoing, confident, hypertalented pianist whose greatest asset is her ability to communicate" (Boston Musical Intelligencer). Her multifaceted career brings her dynamic presence to the world's most illustrious concert stages, like NYC's Carnegie Hall and Paris' Salle Cortot, to far-reaching places where music is needed most, like the jails of Riker's Island.
A Las Vegas native, she quickly garnered sixteen first-prize awards, performed live on Nevada Public Radio, and appeared as a soloist with every Las Vegas regional orchestra—all before graduating high school from the Las Vegas Academy. From there she polished off degrees from the Eastman School of Music and SUNY Stony Brook, where she received her Doctorate of Musical Arts in piano performance. As a laureate of the prestigious Pro Musicis International Award, she debuted in Carnegie Hall in 2012.
Dr. Le is a highly sought-after collaborator and chamber musician, performing with principal players of the world's leading orchestras and ensembles such as Metropolitan Opera Orchestra, Orpheus, St. Martin-in-the-Fields, American Brass, and Canadian Brass. She is a first-prize winner of the Ackerman Chamber Music Competition, juried by the Emerson String Quartet. From 2012-2014, she held a coveted fellowship position with Ensemble Connect, the resident ensemble of Carnegie Hall and the Juilliard School.
After establishing a career in New York, she returned to her roots in Las Vegas to make a difference. Through performances, teaching, and community outreach, she is committed to adding beauty and cultural growth to her hometown everyday. Read more at www.alexandriale.com.
Dr. Le is a Yamaha Artist.