A legend by the age of 20. "Technical fireworks," raves the San Francisco Examiner, "interpretive passion." Experience the breathtaking virtuosity of Lang Lang – live in one very special recital presented by your Las Vegas Philharmonic.
This performance is only available currently to Las Vegas Philharmonic subscribers as an add on to the 2023—2024 Season Full 9 Series & 2023—2024 Season Classic 6 Series. To purchase a subscription and for more information on tickets, seating and subscription packages, please contact the Las Vegas Philharmonic's Director of Patron Services & Ticketing, Kayla-Jo Rosoff, at (702) 462.2008 or
email kayla-jo@lvphil.com.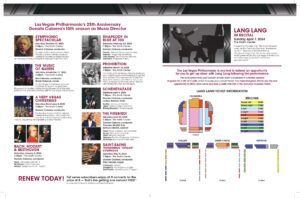 Getting Here
The Smith Center
361 Symphony Park Ave
Las Vegas, NV 89106
Directions
361 Symphony Park Avenue
361 Symphony Park Avenue, Las Vegas, NV 89106, USA