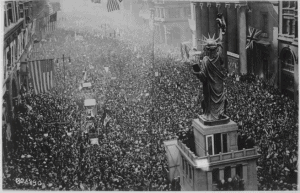 This is from a blog entry I wrote two years ago on the centenary of Armistice/Veterans Day.
Today is the 100th anniversary of Armistice Day — Veterans Day in the U.S. — commemorating the end of WWI, which ended on the 11th hour of the 11th day of the 11 month of the year. It was a devastating war and the world of classical music suffered greatly from this incredibly barbaric conflict.
It was not too long ago that every schoolchild in the U.S. recited John McCrae's, In Flanders Fields, for Veteran's Day:
In Flanders fields the poppies blow
Between the crosses, row on row,
That mark our place; and in the sky
The larks, still bravely singing, fly
Scarce heard amid the guns below.

We are the Dead. Short days ago
We lived, felt dawn, saw sunset glow,
Loved and were loved, and now we lie
In Flanders fields.

Take up our quarrel with the foe:
To you from failing hands we throw
The torch; be yours to hold it high.
If ye break faith with us who die
We shall not sleep, though poppies grow
In Flanders fields.
WWI Composers
George Butterworth was a promising English composer who was killed at the Battle of the Somme at the age of 31. His body was never found. His song-cycle, A Shropshire Lad, is probably his most famous composition:
Rudi Stephan was a promising German composer whose small body of work is also excellent and quite varied in genre. He died at the age of 28 in Tarnopol at the Galician front. Here is a very compelling piece he wrote in 1910 called, Music for Orchestra:
There were many composers who survived WWI but who were deeply effected by it. Each movement of the incredible six-movement piano piece, Le Tombeau de Couperin, by Maurice Ravel is a remembrance of a friend who lost their life in WWI:
And in one of the greatest examples of creating opportunity out of a seemingly hopeless situation, the pianist Paul Wittgenstein — brother of famed philosopher Ludwig Wittgenstein — lost his right arm in WWI. After the war, he spent the rest of his life commissioning the world's greatest composers to write pieces for piano for the left hand. Benjamin Britten, Paul Hindemith, Erich Korngold, Sergei Prokofiev, Franz Schmidt, and Richard Strauss, among others, all obliged but it is Ravel's Piano Concerto for the Left Hand that is the most famous:
The two pillars of English composition, Edward Elgar and Ralph Vaughan Williams, both wrote works in memorium of the Great War. Vaughan Williams's Symphony №3 is very touching and Elgar's Cello Concerto has become one of the staples of the genre:
I've created a Spotify playlist as well: